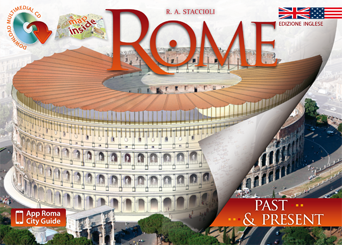 Archaeological Guide
Rome Guide Book in japanese
The  Vision's popular Rome Guide Book is our bestseller. This is the japanese edition.
The Rome Guide Book contains detailed history and past & present images of the Colosseum, the Pantheon, the Forum of Trajan and the most important archeological monuments of the Eternal City.
FREE CD-Rom and City Map included.
€17.00
€17.00Add to cart
Guide Book: Rome Guide Book in japanese
The Vision's Rome Guide Book is our bestseller, the most popular among our guides. This is the japanese edition.
With this guidebook you will learn the exciting history of the monuments that have made Rome famous all over the world and the most curious aspects of the ancient Romans' daily life.
And you will find 20 amazing image reconstructions of the greatest roman monuments, that you will be able to easily overlap to photos of their present states, visually comparing the Past and the Present.
The Rome Guide Book includes a free city map and a downloadable CD / DVD Rom.
Author: Rome Guide Book is written by Romolo Augusto Staccioli, full Professor (ret.) of Etruscology and Italian Antiquities at the University of Rome "La Sapienza"
Format: cm 19,5 x 14
Pages: 100
20 Reconstructions: Forum of Trajan, Trajanos Market, Forum of Caesar, Temples of Saturn and Concord, Forum of Augustus, Colosseum, Domus Aurea, Forum Square, Temples of Divus Julius and of Castor and Pollux, Basilica Aemilia, Temple of Vesta and arch of Augustus, House of the Vestal Virgins, Basilica of Maxentius, Stadium of the Palatine, Domus Augustana, Circus Maximus, Theatre of Marcellus, Tiber Island, Largo Argentina, Pantheon, Mausoleum of Hadrian, Basilica of St Peter.