The Temple of Serapis or Kizil Avlu (Red Hall, thus called because of the color of the bricks) is the most impressive building of the city, and covers an area of 260 x 100 meters.
It is an Eastern-Roman temple, with features of extreme originality, first of all because of its position: its huge rectangular courtyard is set along the course of the River Selinus, which crosses it diagonally, underground, through two large vaulted channels.
Its plan is also unusual: the temple itself consists of a central hall on a rectangular plan, closed at the back by a sort of apse.
© Photo credits by simonjenkins' photos under CC-BY-SA-2.0
The building is flanked by two symmetrical side constructions with identical plans, made up of a porticoed courtyard with two basins and a rotunda closed between two rectangular rooms.
Another surprising element for Asia Minor is the material employed: red brick. The sanctuary, dating from the time of Hadrian, was dedicated to the Alexandrine gods and, in particular, Serapis.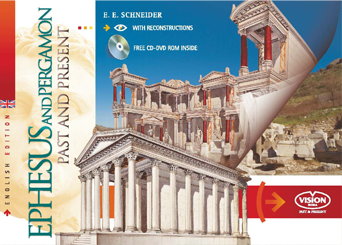 Do you want to know more about the history of Ephesus and Pergamon?
Check out our guidebook to Ephesus and Pergamon, with detailed history and Past & Present images of their greatest historical and archaeological sites.
How to get to The Temple of Serapis, Kizil Avlu, Pergamon