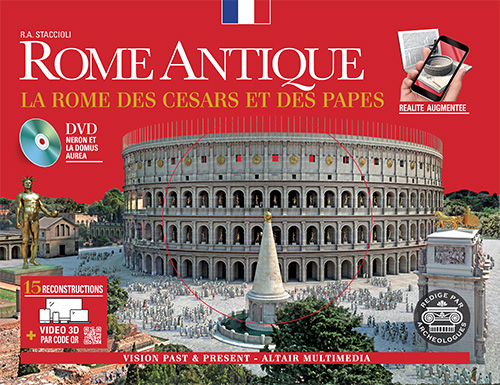 Archaeological Guide
Rome Antique (in french)
Guide of Ancient Rome's monuments, with reconstructions and augmented-reality. Includes the DVD "Nero and the Domus Aurea", by ALTAIR 4 Multimedia, and 11 interesting videos that can be seen through QR-code. French version.
€25.00
€25.00Add to cart
Guide Book: Rome Antique (in french)
From the Colosseum to the Capitoline Hill, from the Pantheon to the Ara Pacis, from Piazza Navona to St. Peter's Basilica, the history of Rome's main monuments is told with precise details and untold curiosities, together with a gallery of splendid images that guide the reader in a tour discovering Ancient Rome's daily life.
Thanks to 15 reconstructions on see-through plastic sheets that are overlaid on top of the archaeological areas showing their present state, past & present mix creating an enchanting vision of the "Eternal City".
5 tables of augmented-reality (Colosseum, Domitian's Stadium, the Circus of Nero, the Vatican Necropolis and St. Peter's Basilica) virtually reconstruct the monuments integrating digital images into the real space: with a simple smartphone or a tablet it is possible to inter-act with the tri-dimentional contents, moving around inside the environmental space as if one is "diving" into the past.
The book is completed with a Nero and the Domus Aurea DVD, created by ALTAIR 4 Multimedia, that through spectacular 3D computer graphic reconstructions opens the doors into Nero's palace and allows one to relive the 64 A.D. fire hat destroyed the Empire's capital.
11 interesting videos can be seen through QR-code.
Format: cm 25,5 x 19
Pages: 100
Language: French
RECONSTRUCTIONS: Square of the Colosseum, exterior of the Colosseum, Temple of Venus and Rome, Domus Aurea, Colosseum valley, Roman Forum, Domus Augustana, Stadium of the Palatine, Forum of Caesar, Forum of Augustus, Circus Maximus, Domitian's Stadium, Ara Pacis, Mausoleum of Hadrian, Constantinian Basilica.