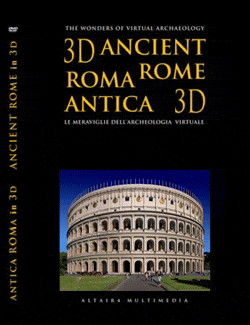 ISBN:

9788897653004
DVD: 3D Ancient Rome
A fantastic jurney through space and time among the splendor of Ancient Rome, rebuilt in 3D computer graphics thanks to the more advanced research and the latest technologies.
With the innovative INTERACTIVE DVD system, you can experience an extraordinary immersive journey on your home TV: moving within each single rebuilt monument, moving to the images of its present state and reconstructions, you could see a spectacular and incredible confrontation between present and past.
The DVD also contains the movie "The House of Julius Polybius", a reconstruction of a Pompeian House as it was a moment before the eruption of Vesuvius
Award AGON in Athens  for the high scientific value of the work.
International award MOBIUS as the Best Multimedia in 2009.
VIDEO FORMAT: DVD-Video HD-Pal 16:9
AUDIO FORMAT: Stereo
DURATION: 90 minutes
€23.90
€23.90Add to cart