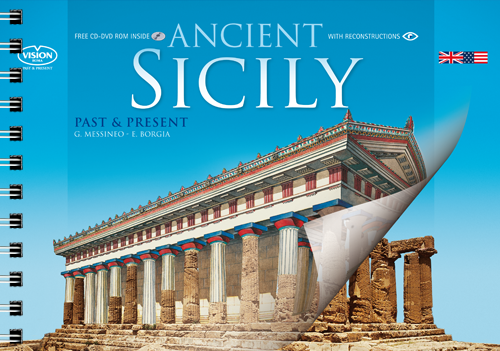 Archaeological Guide
Ancient Sicily
The Vision's Ancient Sicily guide book contains the history and the architectural details of the fascinating temples, theaters and monuments in Sicily, along with 18 past & present images. This is the english edition.
With a free CD-DVD ROM inside
€15.00
This product is temporarily out of stock, sorry. Please, come back in a few days.
Guide Book: Ancient Sicily
In the Vision's Ancient Sicily guide book you will find the history and the architectural aspects of the theaters, temples and archaeological monuments of Sicily.
And you will find 18 accurate graphic reconstructions of the most amazing monuments and temples of Ancient Sicily, like the Taormina Theater, the Temple of Athena in Syracuse or the Acropolis in Selinunte, that you will be able to easily overlap to photos of their present states, visually comparing the Past and the Present.
Authors:
Gaetano Messineo, Professor of Classical Archaeology and of History of Greek and Roman Art at the University of L'Aquila, Former Inspector of the Archaeological Superintendent Office of Rome
Emanuela Borgia, PhD Classical Oriental Archaeology, Researcher and Lecturer at the University of Rome "La Sapienza".
Format: cm 28 x 21

Pages: 72
Reconstructions: 18. Syracuse: Temple of Athena, Temple of Apollo, Ierone, Theatre, Castello Eurialo. Taormina: Theatre. Piazza Armerina: Frigidarium, Basilica. Agrigento: Temple of Juno Lacinia, Temple of Hercules, Temple of Zeus Olympios, Temple of Castor and Pollux. Selinunte: Acropolis, Temple G (external and internal), Sanctuary of Demeter Molophoros. Segesta: Theatre.
Edition: english