The Sanctuary of Aphaia is a place of worship on the Greek island of Aigina, dedicated to a deity which, judging from the sculptures on the pediment, was probably Athena.
However, an inscription of dedication refers to the "oikos (house) of Aphaia", and it is probable that the temple was devoted to Athena, but that the local population had assimilated her to the local deity, who may be of Cretan origin.
The site had been used as a place of worship since the XVth century BC, as testified by the finding of small Mycenean idols, and the plan of the sanctuary took shape towards the end of the VIIIth century, when the sacred area, flanked by a building which has been identified as the "house of the priests", was designed to enclose a terrace with a central altar and a cistern.
The construction of the propylon dates to the VIIth century BC, and perhaps the building of a first temple.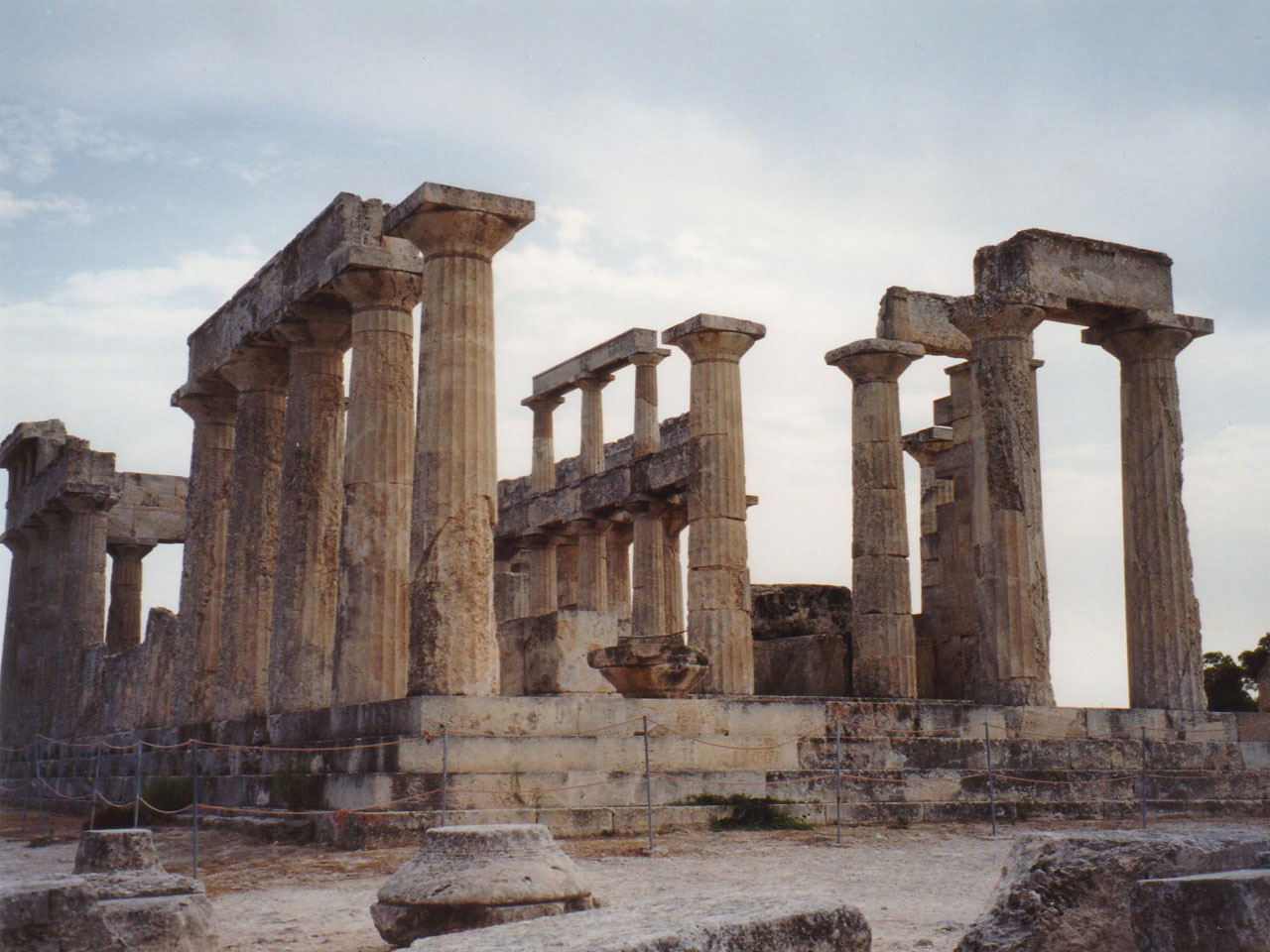 © Photo credits by Alun Salt under CC-BY-SA-2.0
In 580 BC the terrace was enlarged and a second altar was built, together with a stone Doric temple which may have been tetrastyle (with four columns across the front) or distyle in antis (with two columns in the middle and the walls of the pronaos advancing to the same level).
The monumental phase visible today was constructed following a fire. The new temple, in stuccoed local limestone, is a Doric peripteral, with six columns across the short sides and eleven down the long ones.
The naos (cell) is divided into three aisles by double-storey colonnades each consisting of five columns, and may be reached both via the pronaos and via the opisthodomos; it is a peripteral temple with 6 Doric pillars on each façade and 12 on each long side, made of local poros stone.
The roof, which is covered in marble tiles in the visible parts, was decorated with central akroteria in the form of korai and side akroteria in the form of sphinxes.
The pediments were probably created in two separate phases: the west pediment depicts duels taking place before Athena, during the expedition of Achilles and Agamemnon against Troy, and it may be traced to the late Archaic period;
the east pediment also shows scenes of fighting between warriors as Athena watches on, but it seems to refer to Herakles's expedition against Troy and exhibits the characteristics of the Severe style, datable to the 480s.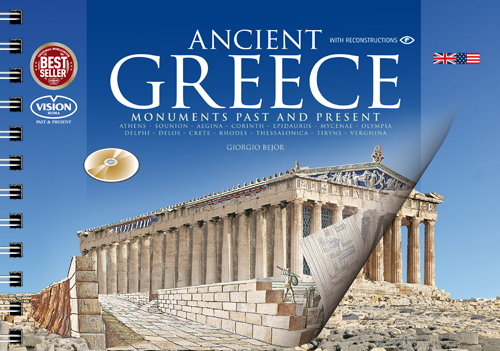 Do you want to know more about the Sanctuary of Aphaia and the history of Greece?
Check out our guidebook to Ancient Greece, with detailed history and Past & Present images of the Acropolis, the Parthenon, Olympia and all the greatest historical and archaeological sites of Ancient Greece.
How to get to the Sanctuary of Aphaia