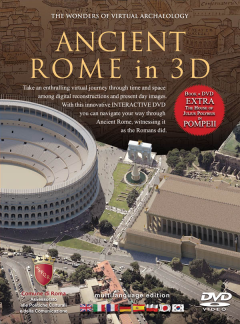 ISBN:

9788890104657
DVD: Ancient Rome in 3D
by Alessandro Furlan, Pietro Galifi, Stefano Moretti (Altair 4)
The DVD contains many spectacular 3D virtual reconstructions, and it is available in 8 languages: English, French, Spanish, Italian, German, Polish, Korean and Japanese.
VIDEO FORMAT: NTSC/PAL 16:9 – 4:3
AUDIO FORMAT: Stereo
DURATION: 70 minutes
Take an enthralling virtual journey through time and space to the splendors of Ancient Rome.
Ancient Rome in 3D uses the most recent discoveries and latest technology to bring the ancient city back to life, reconstructing Rome's most famous monuments in full 3D
With this innovative INTERACTIVE DVD you can navigate your way through Ancient Rome, witnessing it as the Romans did.
Switch from reconstructions of the past to modern day images for a spectacular comparison between past and present. With Ancient Rome in 3D you will experience Rome like never before.
BONUS MATERIAL: The House of Kulius Polybius – This animated reconstruction takes you to the ancient city of Pompeii just moments before the eruption of Mt. Vesuvius (Awarded the Agon Prize in Athens for scientific merit).
CONTENTS: Colosseum, Forum Romanum, Palatine, Forum of Augustus, Pantheon, Baths of Caracalla, Theater of Pompey, Castel St. Angelo, Domus Aurea, Vatican, Temple of Jupiter Capitolinus, Catacombs and The House of Julius Polybius in Pompeii.
€19.90
€19.90Add to cart